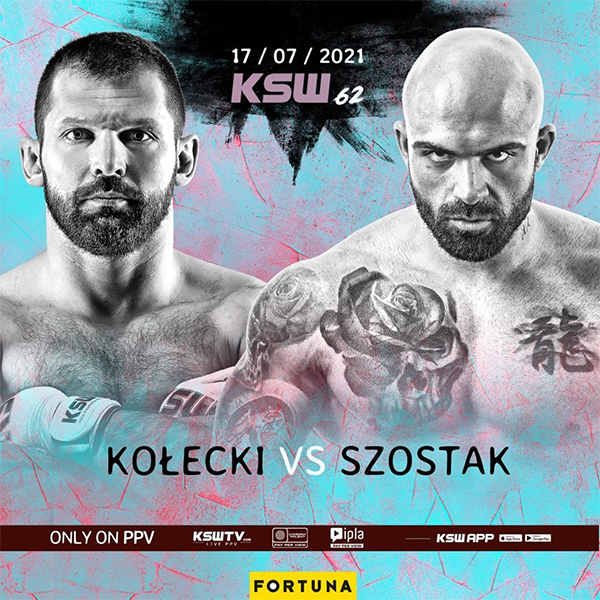 KSW 62: Kołecki vs. Szostak is an upcoming mixed martial arts event scheduled for July 17, 2021 at the Ergo Arena in Gdańsk, Poland.
Fight Card

Main Card
Szymon Kołecki vs. Akop Szostak 205 lbs
Artur Sowiński vs. Sebastian Rajewski 155 lbs
Paweł Polityło vs. Bruno Santos 135 lbs
Andrzej Grzebyk vs. Marius Žaromskis 170 lbs
Michał Michalski vs. Adrian Bartosiński 170 lbs
Tomasz Sarara vs. V. Toktasynov 265 lbs
David Martinik vs. Lemmy Krušič 135 lbs
Gilber Ordoñez Huila vs. Lom-Ali Eskijew 145 lbs
Marcin Krakowiak vs. Borys Borkowski 185 lbs
Background
Olympic gold medalist Szymon Kolecki (9-1) will face bodybuilder & renowned fitness coach Akop Szostak (4-3) in the main event of KSW 62 on July 17th from Warsaw, Poland.

Kolecki is a Polish sporting icon having won a gold medal in weightlifting in the 2008 Beijing Olympics as well as a silver medal at the Sydney Olympics in 2000. In 2017 he made his MMA debut and after amassing an impressive 6-1 record he signed with KSW in 2019.

Since then, the 39-year-old has gone 3-0 in the promotion with wins over the world's strongest man Mariusz Pudzianowski, Olympic wrestling medalist Damian Janikowski, and European MMA veteran Martin Zawada.

Now Kolecki will step in opposite the physically imposing Akop Szostak. The 32-year-old is a famous fitness coach in Poland and makes his return to KSW after two years away and comes back into the promotion after a recent win over monster bodybuilder Radosław Słodkiewicz.

The co-main event of KSW 62 will see a rematch between Andrzej Grzebyk (17-4) and MMA legend Marius Zaromskis (23-9).

In their first bout, at KSW 56, Grzebyk suffered a broken leg in the first round and the fight was called off with Zaromskis being awarded the victory. Now, amazingly just eight months later, the pair will finally settle the score.