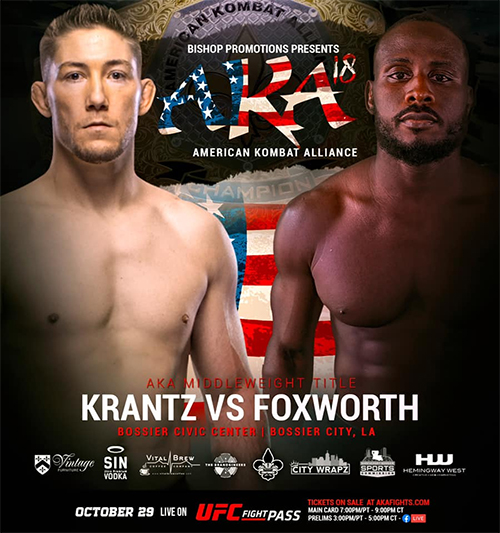 American Kombat Alliance 18: Krantz vs. Foxworth is an upcoming mixed martial arts event scheduled for October 29, 2021 at the Bossier Civic Center in Bossier City, Louisiana, United States.
Fight Card

Main Card (UFC Fight Pass)
Middleweight Derrick Krantz vs. Chauncy Foxworth
Middleweight title
Welterweight Don Doyle vs. Craig Grove
Welterweight title
Welterweight Cris Mims vs. Danny Barlow
Lightweight Darren Whitney vs. Carlton Terrance
Light Heavyweight SD Dumas vs. Mario Mancillas
Lightweight Kenny Gover vs. Adam Denton
Bantamweight Andrew Davis vs. Logan Speyrer
Preliminary Card
Featherweight Austin Soileau vs. Dimas Chapa
Amateur Featherweight title
Amateur Card
Maxx Smith vs. Daniel Cruz
Brandon Hill vs. Garrett Lamana
John Adams vs. Michael Sullivan
Logan Booker vs. Ben Carter
Tank Newton vs. Leonard Ventress
Isaiah January vs. Benton Mitchell
Ryder Barnes vs. Ray Jones
Justin Longoria vs. Colin Richard
Justine Juan vs. Sarah Davila
Josh Childs vs. Jean Luc
Thomas Daigrepont vs. Leotis Easter
Xavier Franklin vs. Sean Delaroach
Samuel James vs. Robert Links
Mason Weidner vs. Marco Esparza
Background
Derrick Krantz defends the AKA Middleweight Title against Chauncy Foxworth on Friday, October 29th inside the Bossier City Civic Center.

Craig Grove and Don Doyle face off in the night's co-main event live on UFC Fight Pass.

With a plethora of knockout wins in both his amateur and professional career, Grove has earned both of his AKA victories by submission including his debut win against skilled BJJ black belt Chris Crosby. Fighting out of Houston, Texas, Grove would love nothing more than for the UFC Fight Pass co-main event "W' to go back to the state of Texas with him. A win at AKA 18 would make Grove a perfect 3-for-3 in 2021 inside the AKA cage.

Seeking to go for 3-for-3 as a professional, all inside the AKA cage, Don Doyle of Fitness Fight Factory, steps into the cage with his toughest task to date in a game opponent in Grove. With two TKO victories as a pro, the former AKA lightweight and welterweight amateur champion, is continuing his climb to become the professional champ in the welterweight division. The Texas Weslyn University wrestler will hope to neutralize the recent successful submission game of Grove and utilize his own ground skills to control the dangerous up-right striker.

Also, law School MMA's own Danny Barlow will take to the AKA cage for his professional debut in a welterweight clash with Cris Mims of Port City Kickboxing Academy. In this Tennessee vs Alabama battle, the race will be to see who can earn their first professional wins.
Danny Barlow has proved to be an absolute dangerous finisher with all but one of his amateur victories coming by the KO/TKO. Most recently, Barlow earned a second-round TKO defending his amateur welterweight crown for that organization. Are there visions of AKA welterweight gold dancing in the head of Barlow? His first step will be to make his opponent see stars laying on the mat. Under the tutelage of Bellator veteran and Memphis MMA legend Brian "The Law" Hall, look for Barlow to continue the long tradition of successful MMA fighters to come out of the "Grind City."

Hoping to derail Barlow's hype-train before it can leave the station is Muay Thai professional Cris Mims. With a spinning back elbow win in the professional Muay Thai ranks, it's no secret that Mims will want to keep this standing and make it nasty. Still in his rookie year as a professional mixed martial artist, Mims has shown throughout his combat sports career that he only needs one strike to end this opponent's night. Making his AKA debut, this is the clean slate needed to make a run on UFC Fight Pass in front of a worldwide audience.

Directly before the main card is the AKA very first AKA Amateur Series featuring a stacked amateur MMA lineup.